Sustainability – a multifaceted issue
Savencia has clearly laid out its corporate social responsibility aims in its Oxygen programme. This approach is part of Savencia's business strategy and is shared by the entire company group. It identifies four main focuses for progress and clearly defines the group's goals for 2025. Local teams all around the world work towards these goals.
At Edelweiss in Kempten, we have been working on sustainability for a long time. As a production facility, reducing our ecological footprint is of particular importance to us. Our work with high-quality natural products reminds us how important it is to act sustainably every day. We are convinced that it is possible to design company processes that equally benefit people, the environment and the company in the long term.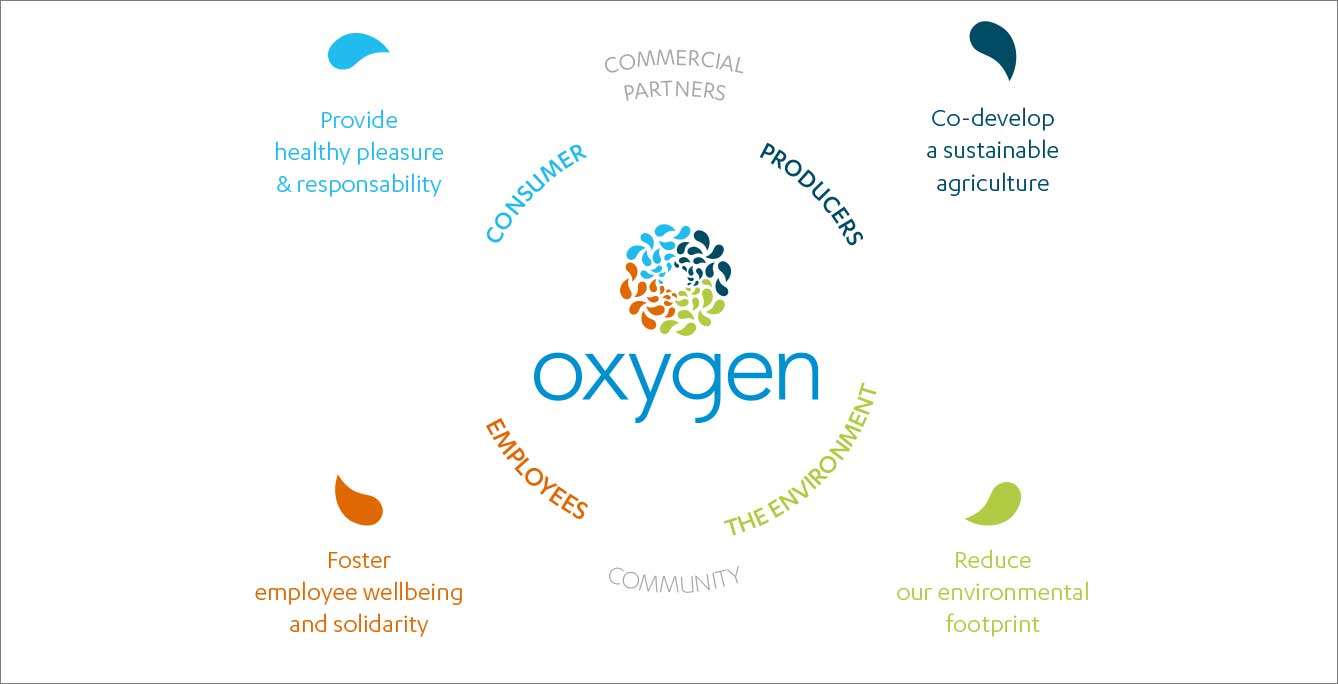 The well-being of our employees is important to us
Safety at work
Safety is our Business!
Occupational safety is an important issue that affects everyone. It's one of Groupe SAVENCIA's key priorities. We are implementing proven best practices for avoiding occupational hazards under the slogan 'Safety is our Business!'
Occupational safety has been considered of utmost importance at Kempten for years. Along with our workplace health management scheme, it forms the foundation for our employees' health and well-being at work.
Working (out) together with the company sports club
Bowling, skiing, snowshoeing, hiking, cycling, football, bowling, table tennis, beach volleyball and a tremendous summer party – who needs a fitness studio when their company has a sports club? Not to mention that we have our own sports facilities, so it's all right on our employees' doorsteps.
Factory fire brigade
Employees can also join our factory fire brigade, which has been going for 80 years. Our firefighters have maintained the safety of our factory grounds for eight decades. On top of carrying out monthly fire drills, our factory fire brigade also regularly provides training on the use of fire extinguishers. All our employees need to be able to demonstrate that they know how to use them.
Milchmösl Blos'n:
the Edelweiss brass band
Milchmösl Blos'n really knows how to get the party started. We can't imagine a company celebration without our brass band. But these 20 musicians don't just limit themselves to company events – they've delivered unforgettable performances at the International Green Week exhibition in Berlin and at numerous mountain festivals in the Allgäu. Milchmösl Blos'n celebrated their 20-year anniversary in 2019 and are still going strong.

Social engagement
We promote social responsibility both within the company and in the community around us. Our internal service team helps integrate people with disabilities into our workforce, and we partner with the Allgäuer Werkstätten sheltered workshop. We regularly support social institutions through donations. In addition to this, we are supporting the fight against the life-threatening bacterial infection noma in Africa.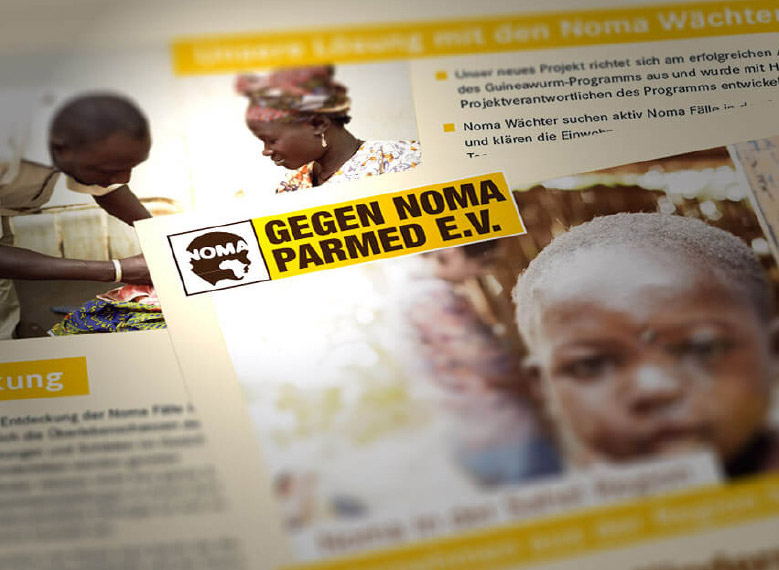 Gegen Noma – Parmed e.V.
Managing directors of Edelweiss founded the Gegen Noma – Parmed e.V. association to combat the childhood disease noma, which is widespread in West Africa. Amongst other things, the association arranges regular fundraising events. Edelweiss GmbH & Co. KG is an active sponsor and supporter of this initiative.

What is noma?

Noma is a bacterial disease that primarily affects children and can disfigure the affected person's face within a week. The disease affects 100,000 children in Africa every year, and 80% of cases are fatal without treatment. In its early stages, the disease can be cured within 48 hours for the cost of just a few euros. All it takes is standard antibiotics. Unfortunately, there is both a lack of awareness of the treatment available and insufficient access to medication.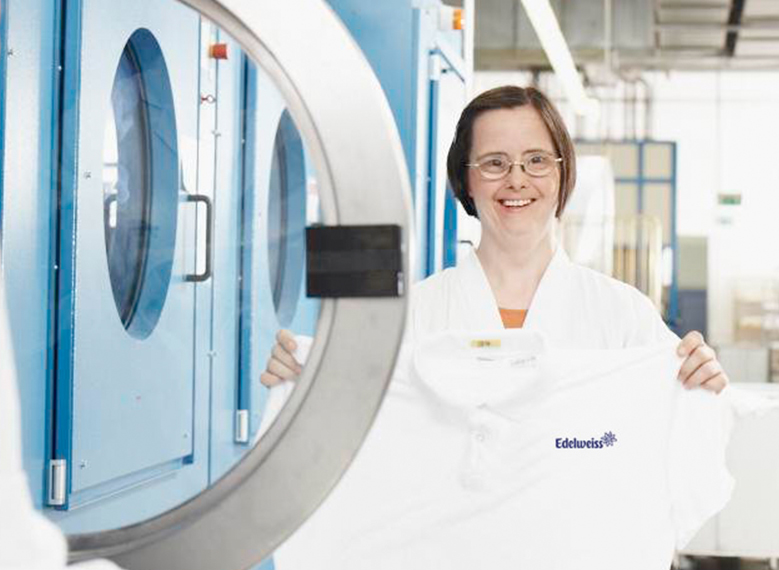 Our partnership with the Allgäuer Werkstätten and more
We are active within the Allgäu region and are involved with a number of local initiatives. For years, we have partnered with the Allgäuer Werkstätten, an organisation that helps people with disabilities join the workforce. Every week, they pick up our laundry and return it to us washed and ironed. Young trainees with the company can also get involved with our social projects. For example, they could help students from the Astrid-Lindgren-Schule, an educational establishment for people with disabilities, make tasty halloumi-style cheese in our factory.
We're environmentally conscious
At Edelweiss, we have been working to significantly reduce our energy consumption since 1996. We now use 47% less electricity and 54% less natural gas for every tonne of finished product manufactured. Per tonne of finished product, we have also reduced our use of cleaning agents by 76% and of water by 68%. We recycle around 85% of all waste material involved in making our products. And we have been running on 100% hydroelectricity since 2010, saving about 7,550 tonnes of CO2 every year. On top of that, our pool vehicle has an environmentally friendly electric drive.
We're also careful to save resources when collecting our milk. For example, we make sure that our tanker trucks take shorter routes and are filled to optimum capacity. On average, our suppliers' dairy farms are just 40 km from our production facility. When delivering our products to retailers, we cooperate with other dairies to consolidate the flow of goods. That way, we save energy as well as producing less noise and fewer particulates.
Environmental management at Edelweiss has been certified in accordance with ISO 14001 and validated in accordance with EMAS III since 2002.

GMO-free milk
Our dairy farmers have completely avoided the use of genetically modified food since 2012. Regular audits are carried out to make sure that they continue to do so. That means the milk we use to make our products is 100% GMO-free.
Grass-fed cows
Our cows are fed primarily on fresh meadow pasture, hay and grass silage. Because our cows are grass-fed, they are healthy and produce milk of an outstanding quality.
On top of that, grassland farming promotes the diversity of meadow plants and helps to conserve the traditional Allgäu landscape in the foothills of the Alps. It also absorbs CO2 from the atmosphere and avoids the need to import soy and corn from overseas, which are often grown on land obtained through deforestation.
Animal welfare
The quality of milk depends on the welfare of the cows that produce it. Our farms, all family-run businesses from the Allgäu region in Bavaria and Baden-Württemberg, make sure that their cows are happy and healthy. The well-being of the herds is important to us and we keep a careful eye on their quality of life.
We regularly survey our farmers on topics such as loose housing, tie stalls, access to pasture, feeding and other issues. We carefully evaluate this information in order to monitor developments.
It is important to us to cooperate with our farmers fairly and on an equal footing. For this reason, we support them by providing workshops that offer expert advice on current issues.
Our farmers have voluntarily committed to being audited by an independent organisation (QM-Milch).
170


milk suppliers
An average of

50 dairy cows


per farmer
Each farm produces an average of
390.000 kg milk
annually
Max. distance to the factory:

45 km